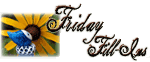 1. Away in a manger, no room for a book! (What a horrible fate!).
2. Dashing through the snow, in a vehicle with the heating turned up full blast.
3. Hark! The herald angels sing. (I decided I should answer at least one properly!)
4. It's coming on Christmas but you wouldn't know it to look at our house.
5. When I was small I believed in Santa Claus, Though I knew it was a load of....
6. That Christmas magic's brought this tale to its long-awaited end.
7. And as for the weekend, tonight I'm looking forward to rinsing the henna out of my hair, tomorrow my plans include going with my mother and aunt to see The Nutcracker and Sunday, I want to finally write some more reviews!