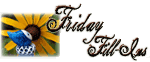 1. I'm looking forward to seeing the new stage production of The Phantom of the Opera.
2. Venice is a place I always wanted to visit and haven't made it there yet.
3. I've fallen in love with books! Big surprise there.
4. Six of one, not enough of the other.
5. Addiction comes in two forms: Hardback and paperback.
6. The debates I have with my mother crack me up!
7. And as for the weekend, tonight I'm looking forward to braiding my hair, tomorrow my plans include see #1 above and Sunday, I want to start sewing on a borrowed machine!